Ichiran ramen
Ichiran ramen is a chain of restaurants born in Fukuoka(Hakata) with branches across all Japan, in Osaka, Kyoto, Hiroshima, Nagoya, and a lot in Kyushu region and Tokyo area.
The entrance of a Ichiran ramen restaurant in Shinjuku, Tokyo
It is famous for its
Hakata style
ramen, one of the most popular, with with apork bones-based broth (
tonkotsu ramen
). The noodles are hand made and the broth is customized with a special spicy chili sauce.
But what really made this ramen restaurant so famous is not only the goodness of the dishes served, but mainly the way in which the ramen is served and can be "tasted".
Customized ramen
Each one can "adjust" the taste of his ramen according to his preferences. In fact when you order a standard ramen they give you a small form to be fillen (for this reason you find a pen on each seat).
Since the staff can't look at you your face (read below), even if you have a western face, they will give a japanese form, but just say something like "Sumimasen, english, eigo" and they'll give you a form written in english. Below you can see an image of the form, whatever you choose in the form doesn't change the price, you have already paid at the vending machines.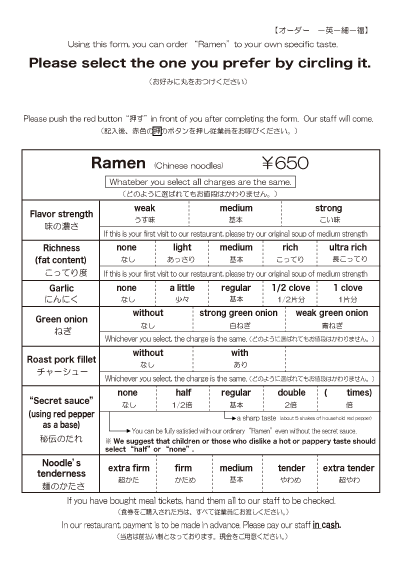 How to order
You choose what to eat and pay at the automatic vending machine out of the restaurants. The machine has a very intuitive interface, just insert the money and push the buttons of what you want, you can order the standard ramen plus many extra toppings (boiled egg, extra noodles, mushrooms, other) and other drinks. Water is of course free and each seat has its tap to fill the glass.
Once collected the tickets at the vending machine, go inside the restaurant looking for an empty seat, at the entrance there is usually a panel with a map of the restaurant with LEDs that indicate which are the free seats, to avoid wandering around looking for a seat, "disturbing" other customers.
To call the staff just touch the button in front of your seat, and then give them the tickets you bought before, so you even don't need to speak to order.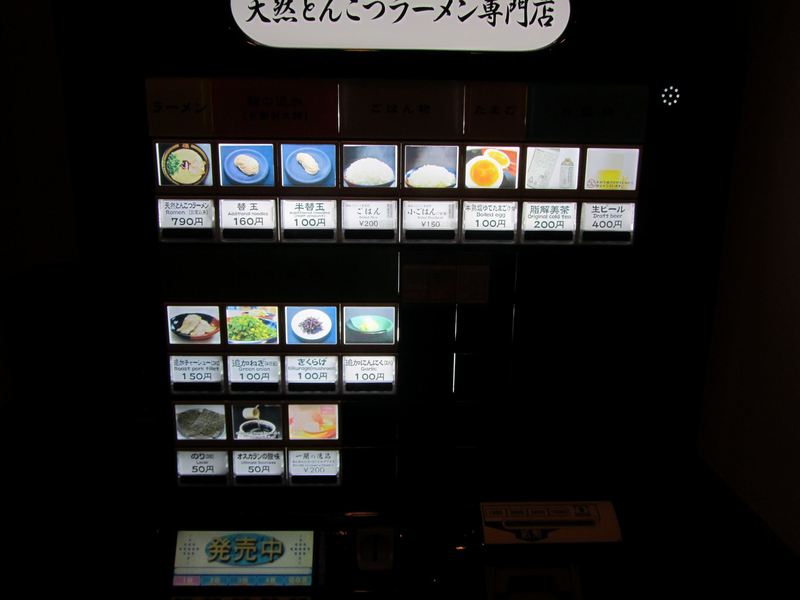 the ticket machine where you choose what to eat and pay
The philosophy of this restaurant is that everyone should enjoy and taste his ramen by himself and without the "bother" of anyone. For this reason, every seat are separated from adjacent seats with dividers that can be removed if you aren't alone and want to eat with someone.
In addition, every seat is isolated from the staff of the restaurant that is on the other side of the counter, through a curtain that is opened only to collect the tickets and serve what you ordered.
Therefore when you eat no-one will be able to look at you.
A short video filmed inside an Ichiran ramen restaurant in Shinjuku while they were serving me their ramen
Guided tours, activities and other things to do
If you are planning a trip to Japan and you want to do something more than just visiting famous places and monuments, we suggest you to use
Rakuten Travel Experiences
.
How to use Rakuten Travel Experiences
Rakuten Travel is a very useful website to
enrich your travel experience
, especially if you are going solo or it's your first time in Japan.
Because of the language barrier (and more), in Japan it is very difficult to interact with the locals and to get off the tourist track.
Thanks to Rakuten Travel you can find a lot of interesting and sometimes unique
guided tours and activities
all over Japan (and not only in Japan), that you would otherwise never be able to enjoy.
But there's more: on Rakuten Travel you can also
buy tickets
for several famous attractions, events, transportation and other useful services for tourists. Last but not least, you can
reserve a table
in hundreds of restaurants.
Some examples
Take a look at Rakuten Travel Experiences
You may also be interested in