Curry House CoCo Ichibanya
Curry House CoCo Ichibanya, often called
Coco Ichi
among japanese people, is a chain of restaurants inaugurated in 1978 with branches all over Japan, and today there are more than a thousand restaurants. In recent years the group has expanded its business to other Asian countries and to the United States.
having lunch at Coco Ichi near Ueno station, Tokyo
What can you eat at Coco Ichibanya?
It is easy to guess that this chain of restaurants is exclusively specialized in one of Japan's modern dishes,
curry rice
.
At Coco Ichi you can choose several different curry rice dishes, each of them with different ingredients (potatoes, eggplants, pork, beef, chicken, fish, etc), and also customize your dish to your liking by choosing the type of sauce (beef sauce or pork sauce), the level of spiciness, the quantity of rice, and any extra topping.
The most popular dishes are, among others, rice curry with tonkatsu, with sausage and cheese, with chicken and vegetables. There are also some vegetarian dishes available.
In addition to curry rice, you can order salads, corn soups, desserts and drinks.
Menu and prices
Coco Ichi is generally considered a cheap restaurant where to eat. However, curry rice is usually a cheap dish everywhere, and there are a lot of less famous or family-run curry restaurants that are slightly cheaper than Coco Ichi.
Almost all the dishes on the menu cost between 650 and 900 yen.
An useful information about this restaurant: it is really easy to order for foreigners who do not understand Japanese, as the menu is written in many languages: Japanese, English, Spanish, Portuguese, Arabic, Russian, Chinese, Korean.
At
this link
you can take a look at the full multilingual menu.
Where to find Coco Ichibanya restaurants
At
this link
you can see the list of all Coco Ichibanya restaurants scattered around Japan by region. This page is only in Japanese.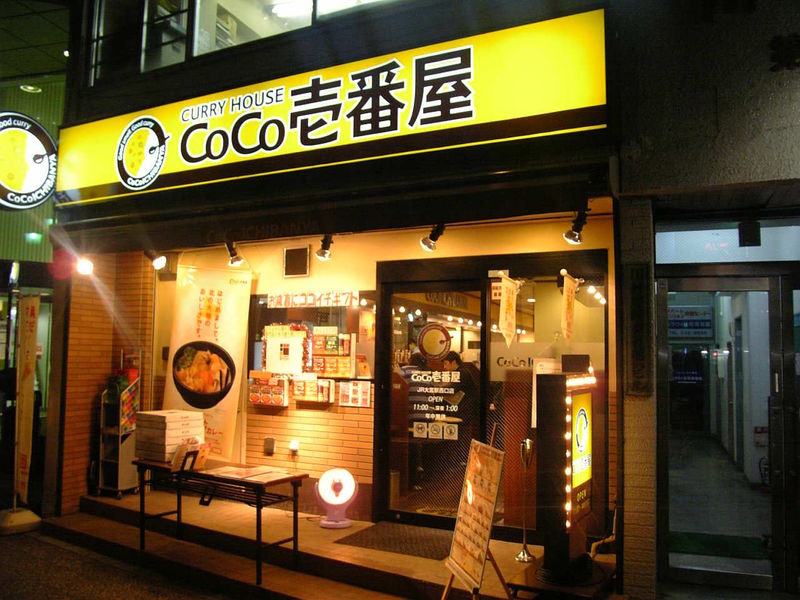 this is how a Coco Ichi restaurant usually looks like from outside
Guided tours, activities and other things to do
If you are planning a trip to Japan and you want to do something more than just visiting famous places and monuments, we suggest you to use
Rakuten Travel Experiences
.
How to use Rakuten Travel Experiences
Rakuten Travel is a very useful website to
enrich your travel experience
, especially if you are going solo or it's your first time in Japan.
Because of the language barrier (and more), in Japan it is very difficult to interact with the locals and to get off the tourist track.
Thanks to Rakuten Travel you can find a lot of interesting and sometimes unique
guided tours and activities
all over Japan (and not only in Japan), that you would otherwise never be able to enjoy.
But there's more: on Rakuten Travel you can also
buy tickets
for several famous attractions, events, transportation and other useful services for tourists. Last but not least, you can
reserve a table
in hundreds of restaurants.
Some examples
Take a look at Rakuten Travel Experiences
You may also be interested in