Hasedera Temple - Kamakura
last update: November 15, 2021
Hasedera Temple (長谷寺) is one of the most important and most interesting Buddhist temples to visit in Kamakura. For 1300 years this temple has housed a very precious gilded wooden statue of the deity Kannon, 9.18 meters high and considered one of the largest wooden sculptures in Japan. The temple buildings are built on the slopes of the Kannon-zan hill, which is home to a great variety of trees and flowers that bloom throughout the year. The panoramic view from the terrace located about the middle of the slope is one of the most picturesque views of the city of Kamakura.
Hours and fees
Admission:: 400¥
Opening hours: 8:00-17:30
Closing days: none
Other useful information: -
All the details about the Hasedera Temple in Kamakura
Historical background
Legend has it that, in the year 721 AD, a monk known as Tokodo carved two eleven-headed statues of
Kannon
(goddess of mercy for the Buddhist religion), using wood of a sacred tree, in Hatsuse, a village located in the present prefecture of Nara. Of the two, one was taken into custody by the then existing Hasedera Temple of Nara, the other was thrown into the ocean, praying for it to appear and help people elsewhere. Also according to legend, the statue appeared in 736, after fifteen long years, on the shores of the current prefecture of Kanagawa. In that same year the Hasedera Temple of Kamakura was founded, precisely to house the statue of Kannon. However, documents in the temple's archives suggest that this only really took hold during the Kamakura period (1192-1333). Long belonging to the Tendai Buddhist sect, it is now an independent temple of Jōdo-shū Buddhism.
Guide to visiting the Hasedera Temple
The temple's main entrance gate (
Sammon Gate
) is located at the base of the hill, and is easily recognizable by a large red lantern and an iconic pine tree in front of it. Once you pass the door, you find yourself in front of a small lake surrounded by a beautiful traditional-style garden. To the right of the pond there is a small shrine dedicated to the goddess
Benzaiten
and the entrance to a cave (
Benten-kutsu cave
). Inside the cave, very dark and low (you have to bend your back to be able to go inside) there are several statues of the Benten.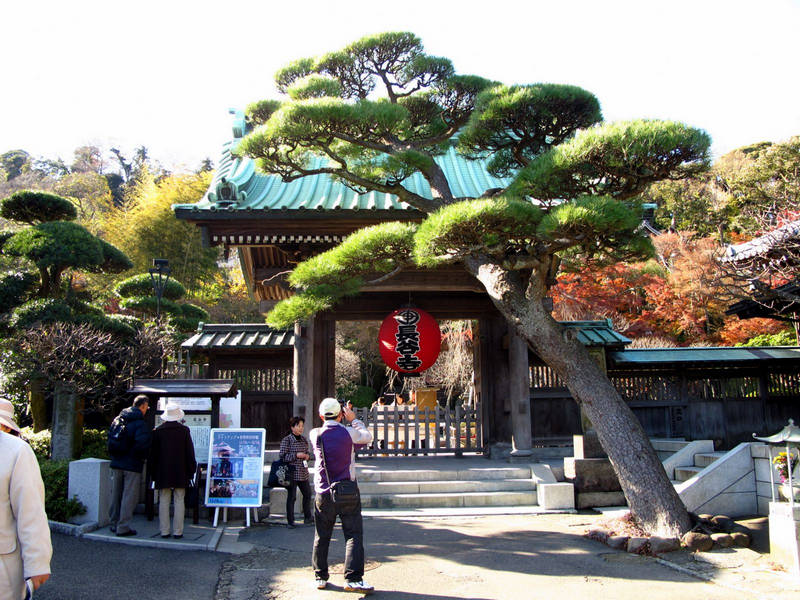 The main gate of the temple, the Sammon Gate
The Kannon-do Hall, which houses the precious statue of Kannon which, according to legend, gave rise to the temple. The building was destroyed many times over the centuries, the last time due to the great earthquake of 1923. The present building is a reinforced concrete reconstruction from 1985.
The Amida-do Hall, keeping a 2.8 meter high statue of Yakuyoke Amida Buddha.
The Homotsu-Kan museum, a small museum that exhibits statues and other precious and ancient objects kept by the temple (300¥, 9:00-16:30, closed on tuesdays)
The Kyozo Sutra archive, a sort of archive of sutras and other documents that keep track of the temple's chronicles over the centuries. This type of building, common within many Buddhist temples, generally follows a particular architectural style with a square base.

How to get to the Hasedera Temple of Kamakura

On foot

You can reach Hasedera Temple on foot from Kamakura station. In total there are about 1.8 km and along the road you will find several maps and directions also in English. It is not difficult to get there on foot, even without using the GPS. It is located very close to the Kamakura Daibutsu.

By train

400 meters from Hasedera Temple is Hase station, a small station along the Enoden railway line that connects Kamakura station with Enoshima and Fujisawa. From Kamakura station it takes 4 minutes and it costs 200¥.

Guided tours, activities and other things to do

If you are planning a trip to Japan and you want to do something more than just visiting famous places and monuments, we suggest you to use Rakuten Travel Experiences.

How to use Rakuten Travel Experiences

Rakuten Travel is a very useful website to enrich your travel experience, especially if you are going solo or it's your first time in Japan.
Because of the language barrier (and more), in Japan it is very difficult to interact with the locals and to get off the tourist track.
Thanks to Rakuten Travel you can find a lot of interesting and sometimes unique guided tours and activities all over Japan (and not only in Japan), that you would otherwise never be able to enjoy.
But there's more: on Rakuten Travel you can also buy tickets for several famous attractions, events, transportation and other useful services for tourists. Last but not least, you can reserve a table in hundreds of restaurants.

Some examples

Take a look at Rakuten Travel Experiences

You may also be interested in