Tanabata
Tanabata (七夕) is a japanese traditional festival (matsuri) imported from China many centuries ago, that occurs every year on the 7th of July or August, depending on the city.
Tanabata customs
During this day the most common tradition is to write their own wishes on pieces of colored paper (called
tanzaku
), and then to hang these papers on branches of bamboo trees. These trees are also often "decorated" with special origami called
orizuru
.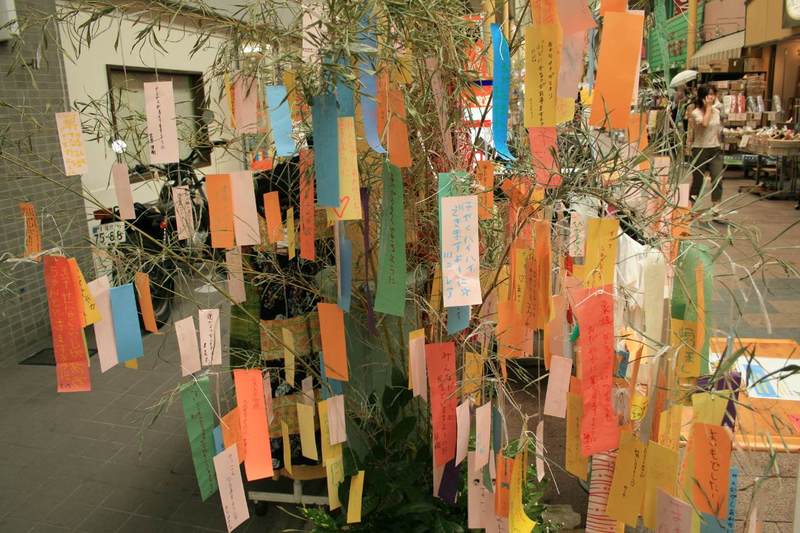 small bamboo tree full of tanzaku
Being a matsuri, during this day and sometimes also around this day, a lot of towns in Japan organize festivals in the form of parades and various decorations on the streets. Nowadays many shopping centers organize particular events too, of course they cannot miss the opportunity to commercially exploit even this tradition.
The most famous Tanabata Matsuri
The most famous Tanabata matsuri of all Japan takes place every year on the 7th of August in
Sendai
.
In the Tokyo area Tanabata is celebrated on July 7 instead. If have the opportunity to visit Tokyo during this period, the most important event takes place in the area of
Asakusa
, along the
Kappabashi Dori
, and is known as
Shitamachi Tanabata Matsuri
.
Other famous Tanabata festivals in Japan are:
-
Shonan Hiratsuka Tanabata Matsuri
(
Hiratsuka
, Kanagawa prefecture, one hour away by train from Tokyo, near
Kamakura
);
-
Shimizu Tanabata Matsuri
(
Shimizu
, near Shizuoka);
-
Irumagawa Tanabata Matsuri
(
Sayama
, Saitama prefecture, one hour away by train from Tokyo).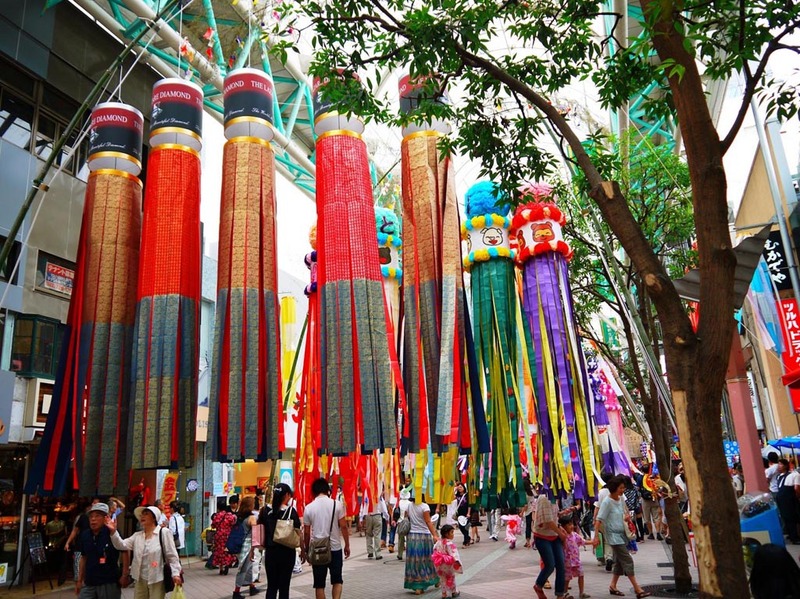 the city of Sendai adorned with traditional Tanabata decorations
Guided tours, activities and other things to do
If you are planning a trip to Japan and you want to add something special besides the visit of the different monuments and famous places, we suggest you to use the site
Govoyagin
. This is a very useful site to enrich your travel experience, especially if you are going solo or it's your first time in Japan and, for language barriers and more, and you will not have many opportunities to interact with the locals and to enjoy something different from the famous places marked in the tourist guides.
What Govoyagin is
Govoyagin is a website where you can find many particular activities all over Japan (and not only in Japan).
You can buy tickets online for some famous attractions, but also book tours and really special experiences with locals ready to guide you and take you to places outside the tourist circuits that you would hardly ever find by yourself. Last but not least, you can reserve a table in hundreds of restaurants.
Some examples
On Govoyagin you can buy tickets in advance to visit the
Tokyo Tower
or the
Tokyo Sky Tree
, but also book guided tours of
Kyoto temples accompanied by a samurai
, or to go around the streets of Osaka
on a go-kart dressed as Super Mario
, or even play videogames
against an unbeatable Japanese otaku at his place
.
Last but not least, if you need to reserve your table in some restaurants, such as the legendary
3-star Michelin
, also in this case you can find this kind of service for sale on Govoyagin.
Take a look at Govoyagin
You may also be interested in