Halloween in Japan
Halloween (ハロウィーン) in Japan is of course a purely commercial celebration, spread more or less as in my country (Italy), maybe just a little less known.
Halloween is perfectly in keeping with the Japanese craze of unbridled consumerism and disguise.
In the days before this day, especially in cities like Tokyo or Osaka, you can find various shops "decorated" with an Halloween theme, with pumpkins and things like that, many clubs and discos that organize costume parties on the night of October 30, and various other events aimed to attract people and make some extra money. The custom of trick or treat among children is mostly unknown.
In particular, some very popular events take place every year in the American amusement parks of
Disneyland
(Tokyo) and
Universal Studios
(Osaka), more information on their official websites.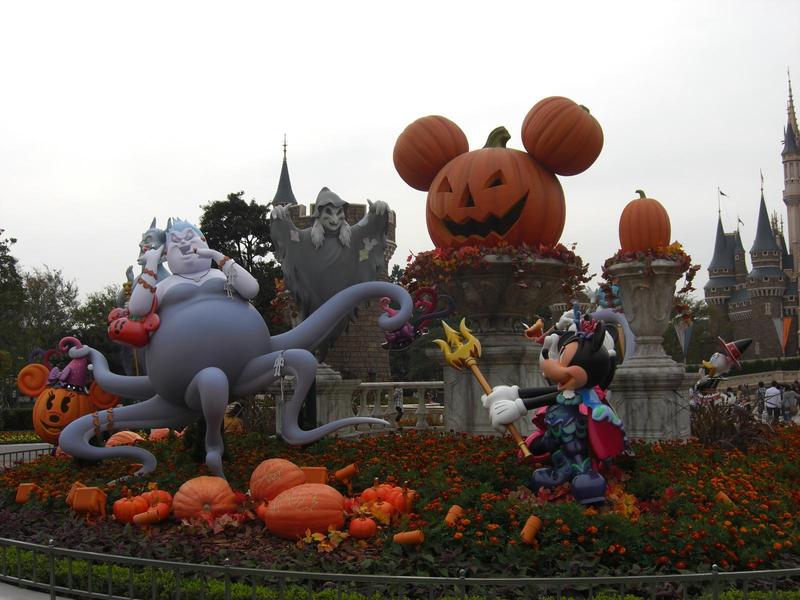 halloween decorations at Tokyo Disneyland
In the outskirts of Tokyo, there have been for many years a few parades that are becoming increasingly important, but they are not held on October 30 as you might think, but one or more days before the Halloween night, so if you are in Japan in that period and you want to go to one of these parades, find out the exact date and time:
-the
Hello Halloween Pumpkin Parade
(
official website
) in
Harajuku
, along
Omotesando
street. It is the oldest Halloween parade organized in Japan (since 1982);
-the
Roppongi Hills Halloween Parade
, in
Roppongi
, more information can be found in the events section of the
website
of the
Roppongi Hills
shopping center, which organizes the event;
-the
Kawasaki Halloween Parade
, the biggest parade among those mentioned, it doesn't take place in Tokyo but in
Kawasaki
, a large commuter town very close to Tokyo, a few minutes away by train. The parade takes place near the East Exit of
Kawasaki station
, and is organized by an "Italian-style" shopping center called
La Cittadella
(
official website
).
Another curious thing is that not all costumes are in keeping with Halloween, among witches and vampires it's not hard to find characters from mangas or other disguises that nothing have to do with the Halloween themes.
Guided tours, activities and other things to do
If you are planning a trip to Japan and you want to add something special besides the visit of the different monuments and famous places, we suggest you to use the site
Govoyagin
. This is a very useful site to enrich your travel experience, especially if you are going solo or it's your first time in Japan and, for language barriers and more, and you will not have many opportunities to interact with the locals and to enjoy something different from the famous places marked in the tourist guides.
What Govoyagin is
Govoyagin is a website where you can find many particular activities all over Japan (and not only in Japan).
You can buy tickets online for some famous attractions, but also book tours and really special experiences with locals ready to guide you and take you to places outside the tourist circuits that you would hardly ever find by yourself. Last but not least, you can reserve a table in hundreds of restaurants.
Some examples
On Govoyagin you can buy tickets in advance to visit the
Tokyo Tower
or the
Tokyo Sky Tree
, but also book guided tours of
Kyoto temples accompanied by a samurai
, or to go around the streets of Osaka
on a go-kart dressed as Super Mario
, or even play videogames
against an unbeatable Japanese otaku at his place
.
Last but not least, if you need to reserve your table in some restaurants, such as the legendary
3-star Michelin
, also in this case you can find this kind of service for sale on Govoyagin.
Take a look at Govoyagin
You may also be interested in