Origami and Kirigami
Origami (折り紙) is the Japanese art of paper folding.
The term Kirigami (切り紙) means instead the art of folding and cutting paper.
The difference between an origami work and a kirigami work is thus that for the second one tools to cut the paper can also be used, while for the first one paper can be folded only.
Origami are now part of Japanese culture, and are used in many occasions, for example, to make the New Year's postcards, the envelopes where to put money to give to children, for Valentine's Day.
The origin of the art of origami is linked to the Shinto culture.
The earliest examples of origami are traced to strips of paper folded to create geometric shapes, which together with a wire or a wooden stick, were used to border sacred spaces. Anyway they still were very basic shapes.
The period in which the art of origami "flourished" was instead the Heian period (794-1185), during which the origami began to be used in many occasions.
For example, during the
Hinamatsuri
(Girl's Day), paper dolls were placed on boats, which were also made of paper, and then put to sail on rivers.
During the
Kodomo no hi
(Children's Day), children made flags of paper in the shape of carps and hung them outside the doors (this tradition still survives today).
Today the art of origami has spread all over the world and this word has entered in all languages ​​to denote any "sculpture" made ​​of paper.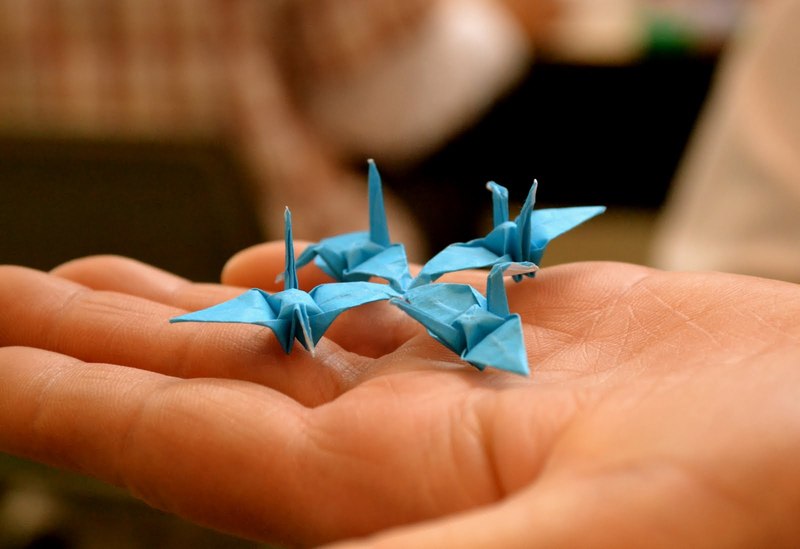 tiny crane shaped origami
Examples and models of origami
In
this website
you can find hundreds of models of origami, of all types, grouped by category and with explanatory photos to make each of these origami, step by step.
Guided tours, activities and other things to do
If you are planning a trip to Japan and you want to add something special besides the visit of the different monuments and famous places, we suggest you to use the site
Govoyagin
. This is a very useful site to enrich your travel experience, especially if you are going solo or it's your first time in Japan and, for language barriers and more, and you will not have many opportunities to interact with the locals and to enjoy something different from the famous places marked in the tourist guides.
What Govoyagin is
Govoyagin is a website where you can find many particular activities all over Japan (and not only in Japan).
You can buy tickets online for some famous attractions, but also book tours and really special experiences with locals ready to guide you and take you to places outside the tourist circuits that you would hardly ever find by yourself. Last but not least, you can reserve a table in hundreds of restaurants.
Some examples
On Govoyagin you can buy tickets in advance to visit the
Tokyo Tower
or the
Tokyo Sky Tree
, but also book guided tours of
Kyoto temples accompanied by a samurai
, or to go around the streets of Osaka
on a go-kart dressed as Super Mario
, or even play videogames
against an unbeatable Japanese otaku at his place
.
Last but not least, if you need to reserve your table in some restaurants, such as the legendary
3-star Michelin
, also in this case you can find this kind of service for sale on Govoyagin.
Take a look at Govoyagin
You may also be interested in