Nipponbashi (Den Den Town)
Nipponbashi, also called
Den Den Town
, can be considered the "Akihabara" of Osaka.
The neighborhood
It isn't a very wide area, it's surely smaller than Akihabara but prices are lower, where there are a lot of electronics and otaku's stuff shops (anime, manga, videogames, action figures, doujinshi, ecc).
A japanese "saying" says "Akiba in the east, 'Ponbashi in the west".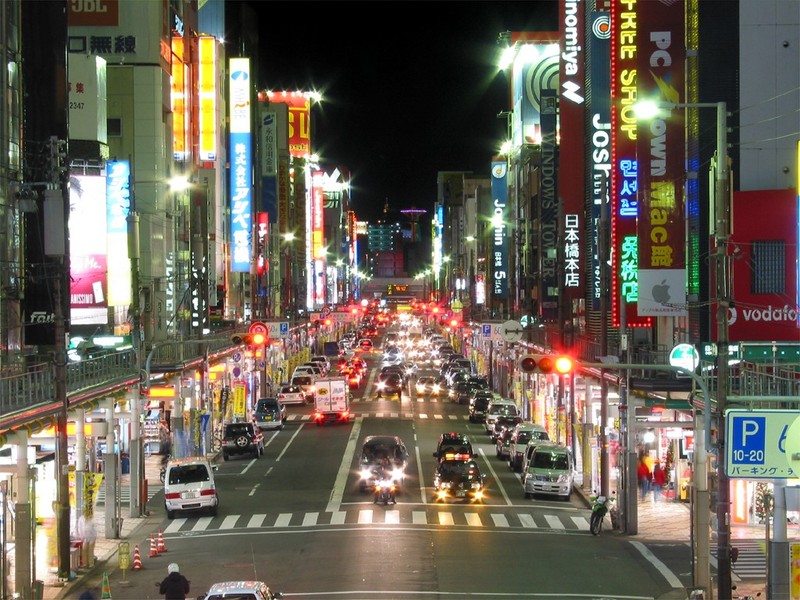 Sakaisuji avenue (Sakai-suji dori), the main street in Nipponbashi
Among the many stores I recommend:
-
Super Potato
(opening hours 11:00 - 20:00), a fantastic chain of stores specializing in
retrogames
. The largest shop in Japan is located in Nipponbashi. Other branches are located in other areas of Osaka and
Tokyo
too.
-
Gundam's
(opening hours 10:00 - 20:00): the largest store entirely dedicated to Gundam in all Japan, 2 floors, inside you can find everything about Gundam, from action figures to key rings or even candies.
-
K-books
(opening hours 11:30 - 20:30): quite large store specializing in manga and various merchandise (action figures and other things), very interesting.
-
Joshin Super Kids Land
(opening hours 10:00 - 20:00): big toys and hobby store, both for adults and children, 7 floors.
-
Comic Toranoana
: chain of stores specializing in doujinshi comics, there is a branch in Nipponbashi too. The one in Akihabara is surely larger.
-
Animate
: famous chain of anime stores diffused in all Japan, of course it has a branch in Nipponbashi too.
-
Volks Hobby Square
(opening hours 11:00 - 20:00), another really good toys and hobbies store.
-
Gee!Store
(opening hours 11:00 - 20:00), interesting store of various merchandising and especially a great department of clothing and costumes for cosplay;
Pratical guide, how to get to Nipponbashi and map
This area is located in the area of Namba
Namba
, about 1 km south-east from Namba station.
You can reach it from Nipponbashi station (served by Sennichimae line and Sakaisuji line) and then walking south, or from Ebisucho station (next stop after Nipponbashi station along the Sakaisuji Line) and walking north.
Guided tours, activities and other things to do
If you are planning a trip to Japan and you want to add something special besides the visit of the different monuments and famous places, we suggest you to use the site
Govoyagin
. This is a very useful site to enrich your travel experience, especially if you are going solo or it's your first time in Japan and, for language barriers and more, and you will not have many opportunities to interact with the locals and to enjoy something different from the famous places marked in the tourist guides.
What Govoyagin is
Govoyagin is a website where you can find many particular activities all over Japan (and not only in Japan).
You can buy tickets online for some famous attractions, but also book tours and really special experiences with locals ready to guide you and take you to places outside the tourist circuits that you would hardly ever find by yourself. Last but not least, you can reserve a table in hundreds of restaurants.
Some examples
On Govoyagin you can buy tickets in advance to visit the
Tokyo Tower
or the
Tokyo Sky Tree
, but also book guided tours of
Kyoto temples accompanied by a samurai
, or to go around the streets of Osaka
on a go-kart dressed as Super Mario
, or even play videogames
against an unbeatable Japanese otaku at his place
.
Last but not least, if you need to reserve your table in some restaurants, such as the legendary
3-star Michelin
, also in this case you can find this kind of service for sale on Govoyagin.
Take a look at Govoyagin
You may also be interested in