Osu
The neighborhood
The area of Osu is one of the most popular areas of the city for shopping, a kind of shopping which is diametrically opposite to that of the area of
Sakae
with its huge shopping malls and department stores. The heart of the commercial area of Osu is in some long covered shopping galleries (the typical shotengai) with about 400 shops and restaurants.
Someone calls this area the "Harajuku" of Nagoya because of its alternative youth fashion and second-hand shops, someone else calls it the "Akihabara" of Nagoya because of its electronics, video games, manga, and action figures stores.
In fact I wouldn't call it neither the one nor the other,
Harajuku
and
Akihabara
are two much bigger worlds. In this area there are shops selling everything and more, it is true that there are many youth fashion shops, otaku and electronics shops, but there are also many restaurants, supermarkets, small grocery stores , pachinko parlors, game rooms, household items, clothes for all ages, barbers, hairdressers, etc.
The main shopping streets are
Banshoji Dori
,
Niomon Dori
,
Shin-Tenchi Dori
and
Akamon dori
.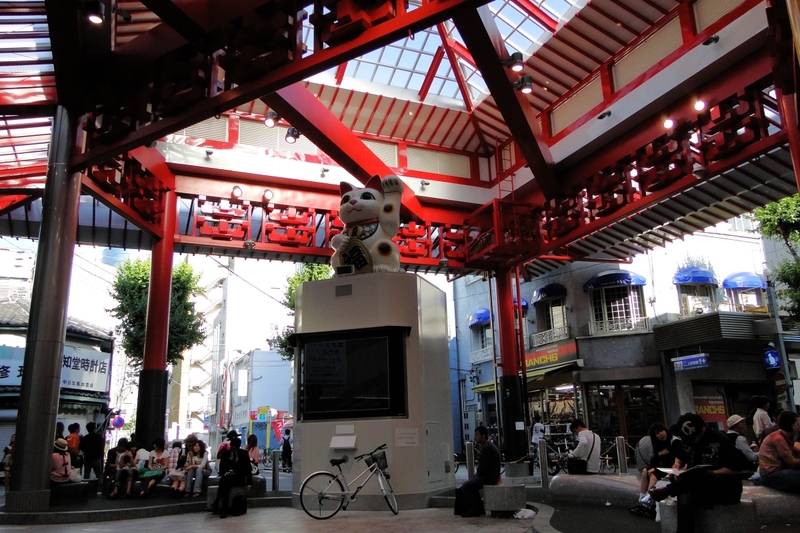 this big maneki neko is located exactly at the corner of Niomon Dori and Shin-Tenchi Dori
Osu Kannon Temple
(free admission)
One of the most popular Buddhist temples in the city of Nagoya. In fact, rather than a Buddhist temple, the Japanese would call it "Jingu-ji", i.e. a sacred place that mixes elements of Buddhist and Shintoism.
This temple was moved to the current location in 1612, but had been built many years ago, around 1333 in a place then called Osu-go (from which it derives the name of the temple), and corresponds to today's Hashima, in the prefecture of Gifu. The current buildings are still a reconstruction of 1970, as the temple was destroyed by fire many years ago.
Inside the temple is kept a valuable statue of Kannon realized by
Kūkai
. The temple also has a library which houses a vast collection of ancient texts, including the oldest existing copy of the
Kojiji
.
Finally, a small flea market is held twice a month (18 and 28) on the grounds of this temple.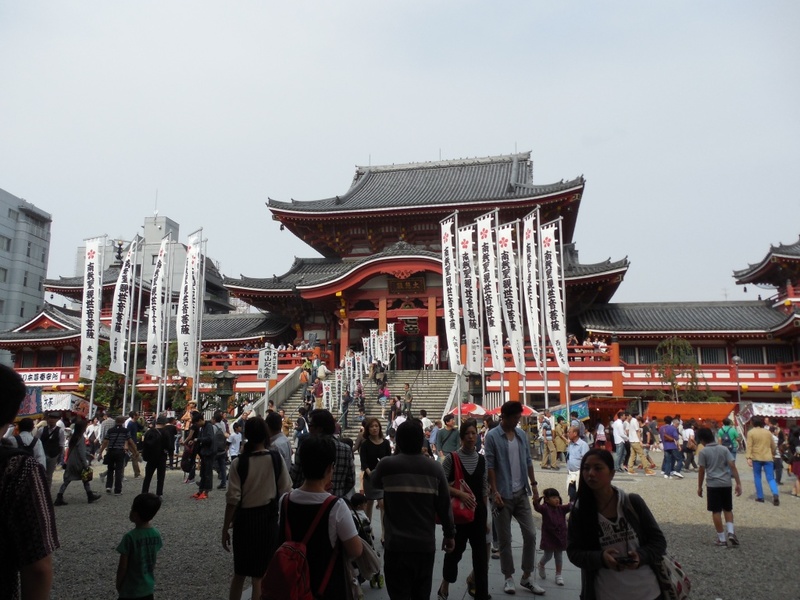 Osu Kannon
Eating in Osu, Nagoya
Osu is one of the city's more full of restaurants neighborhood, including many of international cuisine.
Being also a place of destination for otaku, in Osu you can find also a
maid cafe
(
M's Melody
).
Last but not least, for those looking for "only in Japan"-places I point out the
Cat Cafè MyCat
.
Sleeping, recommended hotels in Osu, Nagoya
Very few hotels in this area, you can find a much wider choice in the nearby area of
Sakae
.
Pratical guide, how to get to Osu, Nagoya
In the area there are two metro stations:
Osukannon station
(
Tsurumai line
) west of the shopping area and very close to the Osu Kannon Temple and to the entrances on the west side of Banshoji Dori and Niomon Dori;
Kamimaezu station
(
Meijo line
) is very close to the entrances on the east side of Banshoji Dori and Niomon Dori.
Finally, the area of
Sakae
is not very far from Osu, you can safely and easily reach it on foot. Sakae station is about 1,2 km far from the northernmost entrance of Shin-Tenchi Dori.
Map of Osu, Nagoya
Guided tours, activities and other things to do
If you are planning a trip to Japan and you want to add something special besides the visit of the different monuments and famous places, we suggest you to use the site
Govoyagin
. This is a very useful site to enrich your travel experience, especially if you are going solo or it's your first time in Japan and, for language barriers and more, and you will not have many opportunities to interact with the locals and to enjoy something different from the famous places marked in the tourist guides.
What Govoyagin is
Govoyagin is a website where you can find many particular activities all over Japan (and not only in Japan).
You can buy tickets online for some famous attractions, but also book tours and really special experiences with locals ready to guide you and take you to places outside the tourist circuits that you would hardly ever find by yourself. Last but not least, you can reserve a table in hundreds of restaurants.
Some examples
On Govoyagin you can buy tickets in advance to visit the
Tokyo Tower
or the
Tokyo Sky Tree
, but also book guided tours of
Kyoto temples accompanied by a samurai
, or to go around the streets of Osaka
on a go-kart dressed as Super Mario
, or even play videogames
against an unbeatable Japanese otaku at his place
.
Last but not least, if you need to reserve your table in some restaurants, such as the legendary
3-star Michelin
, also in this case you can find this kind of service for sale on Govoyagin.
Take a look at Govoyagin
You may also be interested in