Credit, cash and prepaid cards in Japan
PAY ATTENTION: Maestro debit cards, that could be used for withdrawal at some ATM machine until a few months ago, currently do not work anywhere throughout Japan (April 2014).
Payments in stores
It seems strange because we are talking about one of the most technological countries in the world, but cash in Japan is widely used and often preferred.
Of course most of shops in main cities such as Tokyo or Osaka accept credit cards, especially in major areas, but it is always a good idea to have some cash with you. They accept credit cards and prepaid cards of major circuits, Visa, Visa Electron, American Express, Mastercard, Diners Club. Outside the big cities instead find those who accepts them is much more difficult.
Cash cards aren't instead accepted
almost anywhere
.
ATM withdrawals
In the ATM (automated teller machines) of almost all Japanese banks you can't withdraw with foreign credit or cash cards.
As far as I know you can only withdraw cash at ATMs of
Citybank
(I haven't personally verified),
Seven Bank
(I personally checked: true), and ATMs of
post offices
(I personally checked: true).
You can withdraw with all credit cards and popular prepaid cards or debit/cash cards belonging to the Cirrus circuit.
The Maestro circuit currently does not work
.
Beware of withdrawal fees in non-EU countries
. For many credit cards the fee varies from 3 to 5 euros, and some have a percentage on the exchange rate, ask your bank.
Post offices are scattered all over Japan, but the ATMs are not open 24 hours to 24 (maybe only someone in larger branch offices), you can find more information at
this link
.
You can find more information about Seven Bank ATMs, that
you can also find at 7eleven (7/11) convenience stores (conbini)
, open 24 hours on 24, at
this link
, that includes a good search engine and maps.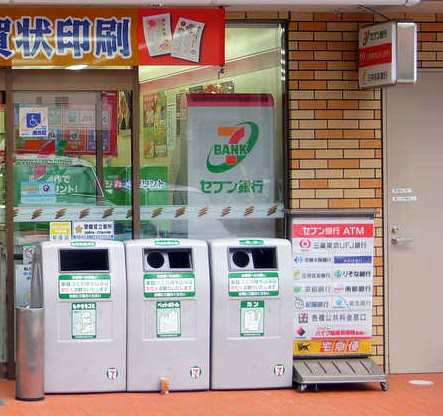 7 bank ATM inside a 7 eleven conbini
Please note that
looking on the internet you can find a lot of experiences of people who have had various problems with various types of cards, especially to pay in the shops but also to withdraw.
I do not know exactly what are the causes of these problems because in theory what is wrote on this page is correct.
Personally I have no experience of credit card payments in shops, I have always paid in cash, but I have some experiences of ATM withdrawals and
I've never had problems
.
However, in order to avoid moments of panic, if I were you I'd never fully rely on cards, and I'd always bring some cash with me, especially if I'm travelling alone. Bringing with you at least two different credit or debit cards is another way to avoid any problems.
Guided tours, activities and other things to do
If you are planning a trip to Japan and you want to do something more than just visiting famous places and monuments, we suggest you to use
Govoyagin
.
How to use Govoyagin
Govoyagin is a very useful website to
enrich your travel experience
, especially if you are going solo or it's your first time in Japan.
Because of the language barrier (and more), in Japan it is very difficult to interact with the locals and to get off the tourist track.
Thanks to Govoyagin you can find a lot of interesting and sometimes unique
guided tours and activities
all over Japan (and not only in Japan), that you would otherwise never be able to enjoy.
But there's more: on Govoyagin you can also
buy tickets
for several famous attractions, events, transportation and other useful services for tourists. Last but not least, you can
reserve a table
in hundreds of restaurants.
Some examples
Take a look at Govoyagin
You may also be interested in